You have been told what is good and what the LORD requires of you: Only to do the right and to love goodness, and to walk humbly with your God. --Micah 6:8
JustFaith Introductory Workshop with Jack Jezreel (April 14th).
You are invited to hear Jack Jezreel, the popular national speaker, justice educator and founder of
JustFaith Ministries
. Jack will discuss biblical justice and JustFaith ministries. Catholic Community of Pleasanton. Saturday April 14th, 1 to 4 pm. RSVP to Meg Bowerman (
LMJTBOW@pacbell.net
)
Training for English Language Tutors (Saturday, April 21).
St. Michael parish has partnered with the Livermore Public Library's excellent and popular program to help adult parishioners improve their English skills. If you speak English, you have all the skills you need to tutor a fellow St. Michael parishioner. By helping an adult become fluent in English, you will equip them to prosper in our society. The time commitment is about two hours per week. You do NOT have to be bilingual. Interested? Call Joanne, 443-1422.
US Bishops Ask Voters to Urge Congress to Hear the Cry of the Poor.
Please ask your Congresspersons to strengthen international poverty-focused humanitarian and development assistance as they consider the upcoming federal budget for fiscal year 2013. While our nation's fiscal challenges are significant, the current economic crisis disproportionately impacts the world's poorest people. Find an easy to use form letter at:
http://actioncenter.crs.org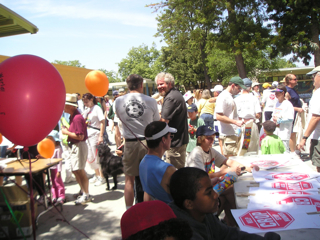 Bay Area Hunger Walk (April 28, 9am, Cathedral of Christ the Light, 2121 Harrison, Oakland).
This three mile walk around Lake Merritt, starting and ending on the Cathedral plaza, funds hunger programs locally and around the world. Contact Joan Suflita (510-205-8856,
dixsuff@sbcglobal.net
). Register at:
www.BayAreaHungerWalk.org
Would you like to pursue a social justice project?
The St. Michael Parish Social Concerns Ministry would like to help you to help others! Call Joanne, 443-1422.
But the LORD'S kindness is forever, toward the faithful from age to age. He favors the children's children of those who keep his covenant, who take care to fulfill its precepts.
-- Psalm 103:6-18